The Mighty Mites program is for both boys and girls ages four through kindergarten. This 30-minute class emphasizes listening skills, basic karate techniques, physical fitness, karate etiquette, basic Japanese commands, eye-hand/eye-foot coordination and balance, through a wide variety of activities. In addition the students learn respect for their Sensei (Japanese for teacher), their classmates and themselves.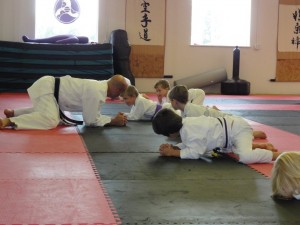 Students in Mighty Mites experience something new and exciting every class. Class generally starts off with warm ups and stretches, but from there on each class session is unique. This helps keep these younger students excited about coming. They might find themselves doing "battle" with pool noodles to develop their speed, endurance, basic fighting footwork, and good sportsmanship skills, or they might work on the karate basics of kicking, punching and blocking. Yet another class might find the students playing a game of "duck and rabbit" to work on their focus, speed and listening ability.
As the students progress through the Mighty Mites program they will have the opportunity to spar with their classmates. They will learn to put on, and get used to, the full gear that they will wear when they transition to the hour-long "open class." Sparring teaches the students that hitting, kicking and blocking are skills they are being taught in the dojo, but they are not to use them at home or at school. Throughout every session confidence in self is emphasized as well as the importance of teamwork and good sportsmanship.
At least once a year Sensei will bring in boards and each child will get to use their fist to break a board. The looks on the kid's faces are priceless when they realize what a little bit of strength and a lot of focus can do! Something that amazes the kids and parents alike!
If you are interested in having your child attend a free class to see if the Mighty Mites program is right for him or her, please contact Sensei Ken Valentine at 618-560-9529.
The class is available at all three dojos during the following times:
Belleville: Tuesdays from 6 to 6:30 p.m.
Waterloo: Mondays, Wednesdays and Thursdays from 6 to 6:30 p.m. and Saturdays from 9 to 9:30 a.m. (with the Open Class)